WASCC has invited SKCWA members to have a test and tune session at their upcoming round of the State Championship.
Thanks to ,,,,,, Des , Mike , Daryl , Jayden , John for your prompt reply
We (superkart club) need a minimum of 15 for the session to go ahead.
PLEASE DECIDE BY 8.00 TUESDAY 24 MAY and submit your payment 
$25 if you have your entry in for June 5
$80 if you are only attending May29
Understand this ,,,,,,, you must make a payment 
— a permit must be organised 
—-we need a small crew to manage the session  / liaise with WASCC
 and some one to run the pickup and safety , 
If we do not have 15  Drivers  then it will be cancelled 
Regards
Phone: 0458 004 321
Hi Drivers ,
There will be a special test and tune session for SKCWA members at the next round of WASCC state championship weekend 28 / 29 May.
SUNDAY 29 MAY ,,,,,, lunch time we can have get some testing done while WASCC have their lunch break .
This will only cost drivers $25***** plus you can get into the venue free and watch a variety of classes race.
That $25 is conditional as per below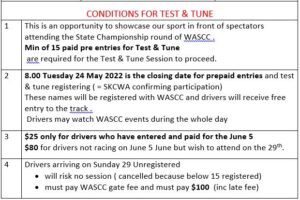 So take the opportunity to showcase our sport and the club at a major winter race meeting.
Regards
David Clarke
Secretary
SKCWA
Email Address: superkartclubwa@gmail.com
Phone: 0458 004 321